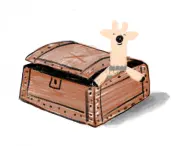 Comments
If you would like to leave us a comment or feedback on the book, the resources, or to share your story, please send us an email at sammyfoundatreasure@gmail.com. Your words and experiences can speak to others and help them on their journey. Thank you very much!
Vale R · @unamamaencolores Argentina
In SAMMY FOUND A TREASURE, Sammy is the main character and he tells us in his own voice that one day he discovered a treasure despite not being a pirate.
His aunties told him that his mother, before she died, had prepared a very special gift for him: she wrote the word MUM in his heart. Nothing can erase that name or break it, because it is made with love so that it will always be with him.❤️

Sisters Laura and Teresa Menéndez wrote this book after experience bereavement within their family.
A simple text manages to accompany children in a positive and loving way through a moment as painful as the death of a loved one. Each paragraph highlights concepts and values ​​that are a great caress to that heart that has to heal.

Maru Guerrico's illustrations give it freshness and joy, accentuating this message full of hope and, above all, love.

A book that embraces, contains, pampers. That gives us a treasure to be able to feel with each heartbeat that whoever seems to be leaving is still with us.
Belén López Medus · Autora / Author
It is difficult to talk to children about certain things. Death is one of the most feared subjects. In general, we avoid addressing it until it is absolutely necessary. As if we were somehow protecting them from that painful and inevitable part of life.
The truth is that not mentioning the word death (or doing it in a low voice) does not make this reality disappear from the human experience. Death is as much a part of life as life itself. We will all die at some point. Plants die, animals die too.
Even though we hope with all our hearts that our children never have to go through the pain of loss, at some point that will happen. And saying goodbye to a loved one is painful, nothing can avoid it. But our role is not to "cut out" the difficult part of life to prevent children from suffering, but to accompany them with empathy and love.
This book that we want to present to you today is about grief. It was written by two aunties for their nephew, who recently lost his mother. Each word was thought and written from love and grief experienced first-hand. The illustrations of the artist @maruguerricoart accompany with great sweetness and sensitivity.
But this is not a book just for someone who has already suffered a loss. It's for everyone. The greater the diversity of topics within the home library, the richer the emotional world of our children and the easier it will be for us adults to tackle the issues that bother us the most.
A story can be the best kickstart for beautiful and necessary conversations. And when we include the theme of death in our daily lives, children incorporate it more naturally, as part of the cycle of life. A space is opened to ask and talk about the fears that appear around them.
Laura and Teresa Menendez, the authors, in addition to giving us this beautiful book, created a page where they provide information about the grieving process in children and share activities and resources to work with them from the book. We encourage you to enter to see it: www.sammyfoundatreasure.com and to follow them on Instagram at @sammyfoundatreasure
Adriana Figueroa · Chile
A lovely and moving story. I loved it; it was simple and profound, without denying grief or with false consolations, but full of hope.
Romina · @eraseunavezlibros
I think that by now you already know that each book that appears published [in my Instagram], first passed through my eyes, and also through those of my little reader 👧🏻.
I confess that I was going to read today's story by myself before sharing it with her. It is about a topic that can be very difficult for us to talk with children, the loss of a loved one. Perhaps, above all, because adults also have a hard time understanding it ...
But although I had this intention of "escaping" from the subject, she saw me with the story and immediately joined in and asked me to read it to her. To my surprise, she was moved and felt great empathy with the protagonist, and was far from suffering while we read, which is why we usually avoid talking about these things that perhaps bother us adults more than it does to them.
In SAMMY FOUND A TREASURE, Sammy discovers that his mother left a very special gift with him, which will help him in the process of healing his ❤️. This gift is always with him, it does not break (because it is made of LOVE) and is worth more than all the gold in the world.
The story is beautiful, moving ... Its authors, Laura and Teresa Menéndez did an impeccable job in addressing the issue of death, which is so difficult for us to talk about at times. I sincerely believe that it can be of great help to encourage us to talk with our children, without having to wait until they are going through a bereavement and also, of course, to help those who, like Sammy, have lost a loved one.
Lola Castro Montiel · Argentina
My name is Dolores, I am a palliative care nurse, and I am always looking for books that can help children going through bereavement. I have passed on information on this book to several parents who have recently become widowers, as I am sure it can help their children in their grief. They have all found the book's approach very interesting and valuable!
Thanks!
M. L · Buenos Aires, Argentina
Hello girls!
I wanted to thank you for the book and to tell you that it has been a success. Honestly, I was a bit sceptical when I bought it because I did not know how my little ones would react to it.
I still haven't had the chance to read it to my 2-year-old daughter. But I read it to my 4-year-old daughter. It was really moving to see how she empathised with the character: "what happened to Sammy's mum? Where is she? " And after chatting about the character's story, she began to cry, as she understands what it is to miss a loved one who is gone. She was able to tell me about them and how she misses them. After crying, we continued with the story. She could understand what Sammy's treasure meant and even found it amusing that, like him, she also has a mark in her heart, and that other children do not. This made her feel special. And since it was difficult for her to understand that Sammy's love mark could be seen in the illustrations but hers couldn't be seen, we did an exercise where we closed our eyes and remembered beautiful anecdotes of our relatives who have died. I explained to her that the emotion, joy and mixture of feelings that we felt while doing this came from the seal of love in our hearts, that makes the heart jump so that we can feel it and remember that it is there.
I thank you because the book has helped my daughter express better what was going on inside her heat. It gave me the opportunity to talk with her about many topics and questions that arose with the story.
Besides that, it was impossible for me not to become emotional while reading the story as well. As it has happened to us on other ocassions, we cried together, hugged each other and discussed the different feelings that we felt while reading the story together.
We will surely continue to read it and continue to get good things from it.
I have shared your Instagram profile with many people, because I believe that the book is a really valuable tool that can help many families. So, congratulations on what you have accomplished and I hope that you can reach many children!
A hug and thanks again.
Jazmín Nogaró · @viajarenpalabras - Argentina
How strong is the power of love? ♥ ️
I think love is like a roller coaster🎢; There are moments when we believe that this is the way to go, but it is also followed by moments of fear, uncertainty and even abandonment. When thinking about love, the common place is to think about romantic love, but the reality is that love is present in all interpersonal relationships.
Sammy Found a Treasure reminded me that true love is invisible and timeless: it is always there and it is the other face of loss. Sammy must heal and discovers that his mother left him a very special gift that will always be with him and will never break💔 Where is that gift? In his heart.
This is a book to accompany all those who have lost someone, especially at these times. Laura and Teresa Menéndez built a containment network where love is the thread that unites us all. Although this book is originally written for the little ones, it is a great reminder for us adults as well. We only need to look up and remember that all those who have left us on the physical world continue to be with us always.
Today's #ViajarComoChicos has a special tinge: books also heal. And it is through a story, or a fiction book, that we can put words to what we feel. Once again, I confirm that literature is magic.
📌Don't stop from gifting Sammy Found a Treasure to someone you know that is going through grief, as death can find meaning in love.
And now I ask you again: How strong is the power of love?
(original text in Spanish)
Agustina Lynch · Autora/ Author Argentina
"This is a beautiful story, especially dedicated to all those who have lost a loved one. We may have a father, a mother, a grandparent, a sibling, who are in Heaven and this story can help us through that situation. "
"It's a really, really, really nice book. If any of you have lost a loved one, if someone very close to you died, you have to know that that person left all their love marked in your hearts, and that you can always carry them with you. It is good to talk about that person that you miss. Talking is great, it is very important; it will help your heart feel better.
Thank you Agus Lynch for reading our story in your Instagram lives. We are very grateful to you.
Sofía Chas · Autora / Author - Argentina
A story to talk about death. In a calm way, the story tells the story of Sammy, who lost his mother and how he discovers the gift that she has left to him: his name written in her heart.
The story leaves us with a strong and hopeful message. ⁠The story surprised me by the peace it transmits, especially since death is a delicate subject to talk about. The story is worked in a respectful and caring way! I also loved the illustrations by @ maruguerricoart⁠
My children liked the book a lot and that special message stuck a cord with them.
thank you @eltesorodesammy for bringing this book of great value to the world! ⁠
Victoria Romero, Puericultora · @mamunilactancia Argentina
I think this book is just beautiful...
I would really recommend it to children who have lost someone very close to them, that they love very much, as we know that they will miss them and ask about them.
It is clear and uncomplicated, and talks about loss and grief in a very loving way.
Maru @tecuento_micuento · Villa Ballester, Buenos Aires, Argentina
This book conveys a very difficult process for children in a very sweet way. Its illustrations are really beautiful and perfectly accompany each page of the book.
It is a tool that I consider to be very useful. Not only on the occasion of a death, but can be read and enjoyed as any of the other books we have at home.
Being able to offer books of different topics to our children, gives them opportunity to learn more about literature, and in this way, familiarise ourselves with their thoughts, questions, fears and emotions, and to be able to support them with love and words.
The child's courage is transformed into strength that helps him to move forward. He doesn't try to forget who he have lost, but rather brings them back in his memory so that they can accompany him with the purest love.
Luciana · @CUENTO_tequiero
Good Sunday, reading family! 📖 Today we share with you a beautiful book, about the loss of a loved one. A very sad and real story, written from a loving gaze and great resilience.
❤Death is a very difficult time for everyone, but in childhood it is so complex to deal with that these stories allow us to support the little ones, and talk to them with respect and from a loving perspective.
📖It is a story that accompanies children going through bereavement, that helps to heal, that gives great significance to the memories we share of that loved one who is no longer physically with us but whose essence remains in us ❤
Super recommended! It is possible to talk about grief in a simple and beautiful way. The little ones have that ability to find beauty in the harshness that life sometimes presents us. 💜💜💜
Cronopios libros · Moquehuá, Buenos Aires, Argentina
It is a book to address a painful subject: the loss of a loved one. It is focused on the love that remains when someone leaves.
Sometimes other people's stories help us to reflect on our own lives. In this case, Sammy invites, in a special way, both children and adults who have lost someone they love to discover the love that that person has left written in their hearts. That discovery helps Sammy heal his heart.❤️
💫The authors of the book start from the basis that when someone dies they do not take the love that they gave, that remains with us, protected in our hearts.
It is a book that not only makes you think, but really helps children to go through a bereavement process. It is written from a bright perspective, with beautiful colours, hopeful and positive. Love stands out, but without cancelling or hiding the pain.
❤️A realistic story that opens the door for conversation. And that serves to heal the hearts of each of its readers.
💡It is complemented with a webpage, that includes information about how to approach child bereavement, as well as resources and activities to work through this topic with children, using the story as a starting point.
Elisa Peirano · Citas de Radio, Pehuajó, Argentina
"Sammy Found a Treasure is a book created by two sisters and an illustrator who got working together to tackle the tough issue of grief and child bereavement. The answer is in love (...)" We invite you to listen to the interview that Citas de Radio did with one of the authors of the book. Access the interview here.
Nano Mallmann · Tres Arroyos, Argentina
Congratulations on all the work, I really found it excellent. I didn't leave a single word of the entire website unread. I have no doubt that it will help many families through difficult times. I got to know about the book and read about it on a very special anniversary day/month for the family. I look forward to sharing these pages and the story with my daughters.
Maria Jurado · Buenos Aires, Argentina
I loved the message of the book, how it is conveyed in an adequate way for children. Each illustration is touching, the colours, the details of the teddies that accompany the story, the presence of specific people that accompany Sammy, it is really really lovely!
C.S. · Buenos Aires, Argentina
What a beauty, what a wonder. I am crying with emotion and sadness and admiration. What you wrote is beautiful. The story is magnificent, really, wonderful. I admire that you have been able to write this wonder in spite of all the pain and sadness and everything one feels in these situations ... What a beautiful gift you have created for the girls and boys who will experience something similar. It's a beauty ... like a long long hug.